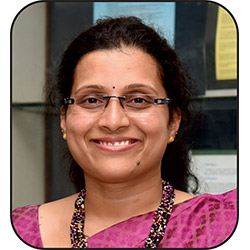 Dr. Pratiksha Wable
Dr. Pratiksha Wable is an experienced Professor with a demonstrated history of working in the management education & pharmaceutical industry, Dr Pratiksha Wable, spearheads the academic affairs in the capacity of Dean (Academics) at Surydatta Group of Institutes. Being the Pharma graduate with MBA in marketing & PhD in Pharmaceutical Marketing, she is a passionate teacher, coach & mentor at the core.
Dr. Pratiksha has over 14 years of full-time teaching experience across varied subjects like Marketing Management, Sales & Negotiation, Business Research & Analytics. She is a Dale Carnegie® Certified Instructor.
She has developed MOOC on GOOGLE Classroom on SWAYAM platform through National Resource Centre (NRC), UGC-HRDC Sant Gadge Baba Amravati University, Amravati, Maharashtra. She is also the member of Joint Curriculum Revision Committee for the MBA programme 2019 of SPPU. She is also a member of NIPM Pune Chapter.