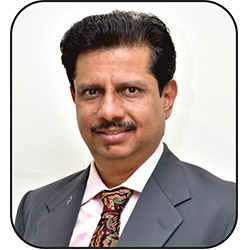 Prof. Sunil Dhadiwal 
Prof. Sunil Dhadiwal is a Gold Medalist Engineer and MBA in Marketing from a reputed B-School in Pune. He has a rich experience of over 25 years in Chemical and Automotive industry at middle management and senior management positions.
He was Sr. General Manager at Force Motors Limited, where he has worked as Head of Department for SUVs, Commercial vehicles & Agricultural Tractors in Sales & Marketing departments. He has worked at strategic positions and has headed Business Process Reengineering activity at Force Motors Ltd. He has also headed Exports for MAN Force Trucks Pvt. Ltd. He has travelled extensively to all geographies in India and various countries internationally for his work.
He teaches strategic management, Sales & Marketing, Rural & Agri Business Management related subjects and is a mentor to students. He has conducted Faculty Development Programs (FDP) and Management Development Programs (MDPs) for various organisations.