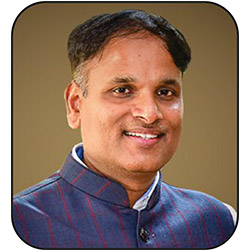 Prof. Ajit Shinde
Prof. Ajit Shinde is a master degree holder in interior designing and persuing his PHD. He is having industrial experience of 19 years and teaching experience of 18 years. He can teach almost all the subjects in design field. He is a member of Indian institute of interior designers.
He believes that creativity and aesthetic sense of designing various spaces keeping in mind different trends and requirements is a need of ideal designing.
He ensure that college life here would be a memorable experience of lifetime.