The aim of visit is adding value to the Curriculum, as on site visit makes better learning experience.
On 12th February 2018, the first year and Third Year students of BSc Hospitality visited Independence Brewery which is located in Mundhwa, Pune. Independence Brewery is a pub brewery manufacturing a comprehensive variety of gourmet and craft beers .The process of manufacturing beer at this brewery is similar to normal beers.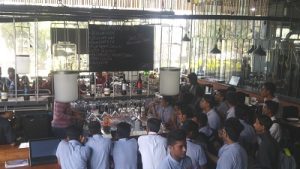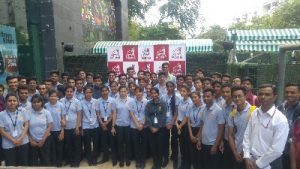 Mr. Vinayak, the General Manager welcomed the students and guided to the brewery and introduced to Mr. Pruthvi Brew Manager. He showed them basic beer ingredients which they import from Belgium, students also seen various cereals used for preparing beer. Students had visited the complete brew system and witness the step by step beer making process. From selection of Grains, crushing, boiling, fermentation to draft system.
The students were happy that they had been given the opportunity to experience the beer manufacturing process and to actually see the ingredients like hops and barley of which they had only seen the pictures.
Students at brew counter for brew presentation
Brew Master has showed various types of beers and explained the types of beer and technical difference between each other. He explained the difference between bottled beer and freshly brewed beers.
Various in-house brew presentation Mr. Ganesh explaining students about the brew process
At the end of the Tour, the students asked Mr. Pruthvi and Mr. Vinayak questions which they answered with patience and also told the students that "to be successful in the industry they have to work hard and be enthusiastic about their careers".
For More Details Click Here