SCHMTT regularly organizes Industry Visits. Ambassador Sky Chef – Flight Kitchen, Radisson Blu Hotel, Altbagh, United Brewery, Sula Winery, Le Meridien, Pune, Rama International, Aurangabad, Oberoi Trident, Mumbai, Vivanta by Taj, Blue Diamond, Pune, Mapro Jams and Jellies, Panchganl are some of the places our students have visited. The visits help the students to understand the practicality of the Hospitality Industry.
SURYADATTA COLLEGE OF HOSPITALITY MANAGEMENT, TRAVEL AND TOURISM. INDUSTRIAL VISIT TO NOVOTEL HOTEL, IBIS HOTEL (ACCOR GROUP OF HOTELS) AND FOODHALL(PHOENIX MARKET CITY) Dated:8thAUGUST 2014
To add value to the knowledge and the current situation regarding Hospitality the faculty & students, a group of 120 people of Suryadatta College Of Hospitality Management, Travel And Tourism visited the Novotel hotel, Ibis hotel (Accor group of hotels) and Foodhall(Phoenix market city) on 8th August 2014
Mr. Manikanta Training & Development Manager ,Ms.Roopal & Ms. Swati Asst. Training Managers of Novotel Pune inducted the students to the different departments in the hotel. The students were briefed about the working procedures and the hotels standards of both back of the house and the front of the house areas of the hotels The areas that were visited were Front Office, Housekeeping, Laundry, Pool bar & lounge as well as the different types of rooms and suites.They even showed us the conference and banqueting areas and function areas of the hotel.
Mr. Vincent Training Manager Ibis hotel introduced the students to the New age concept of Select Service Hospitality and its vogue in India.
The visit to Food Hall – a Gourmet store which sells international food and food products was a brain booster . There was  an array of International products on display like cheese, vegetables, pre packed products, Cold Meats, Frozen Products .Chef Shamboo Sharan gave a live demo on American food culture which was the theme of the month at Food hall. The students were very happy to see the products about which they had learnt about in Class.
At the end of the session the students asked many questions about the right mannerisms & an apt attitude required in the hospitality Industry. The Mentors answered all the questions with patience and told the students that to be successful in the industry they have to work hard and be enthusiastic about their careers.
ABC Farms visit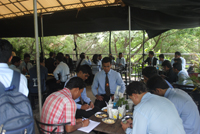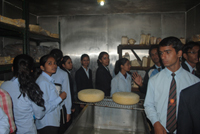 Visit to Oakwood Premier Hotel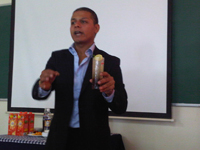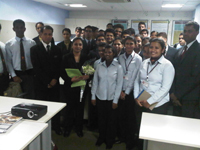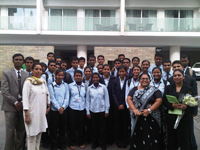 Workshop on' Icing by Marriott Chef